Tesfa Ineste: Volunteers with a Heart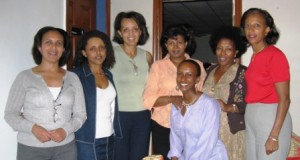 Tesfa Ineste means "let's give them hope" in Amharic, a main language in Ethiopia – and is a fundraising cam­paign of the Fistula Foundation established to raise funds for the construction of the Fistula Hospital in Harar. Through the dedication and generosity of the Ethiopian-American community in the United States, Tesfa Ineste raised nearly $300,000 towards the total construction costs of the Hospital. Tesfa Ineste is chaired by Fistula Foundation Board Member, Abaynesh Asrat, who also chairs the New York Committee; the San Francisco Committee is chaired by Nebabie Kebebew, and the Washington, DC area Committee, which is by far the largest, is chaired by Tsedale Assefa. Tsedale's committee raised approximately 2/3rds of the funds for the Tesfa Ineste Program. In addition, individual Ethiopians raised funds toward the building of the Hospital.
The Washington, DC Committee hosted many events, including three annual fundraising events in the month of December which drew hundreds of participants from the Ethiopian-American community. The dedicated members of the Organiz­ing Committee included: Tsedale Assefa (Chair), Helen Tedla Teshome, Shimeles Bekele, Lillian Alemayehu, Kerima Maasho, Roman Abate, Misrak Gezmu, Hammere Gebreyes, Tizita Belachew, Yoadan Tilahun, Adanech (Addie) Asefa, Eyerusalem Endale, Fregenet Asseged, Hanem Ali, Mimi T. Smith, Selam Melke, Tegest Dirasse, Zeituna Hussien. The Foundation is very grateful for the work of these generous people, as well as Dr. Georgis Kefale.