Tacoma, WA: High School student Constance Hosannah launches "Fight A Fistula, Save A Life" Campaign
On May 30, 2014 high school junior Constance Hosannah launched her "Fight A Fistula, Save A Life" campaign at her school, Charles Wright Academy in Tacoma, Washington. The launch event featured a discussion panel and film screening of "Love, Labor, Loss," a short documentary film about women suffering from obstetric fistula in Niger.
The event was attended by nearly 55 people and raised over $1,600 for Fistula Foundation. One attendee commented that it was "such a moving experience. As a member of the audience, I got a distinct feeling that Friday night was the start of a growing and powerful movement in our community." And Constance isn't done yet! She has planned a walk-a-thon in August called "Walk a Mile in Her Shoes" and hopes to raise $10,000 by the end of 2014 to help end the suffering of women with fistula.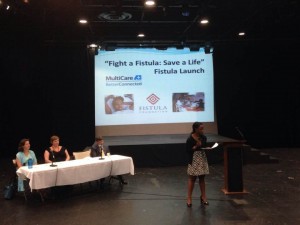 Following graduation from high school next year, Constance plans to continue her studies and become an OB/GYN to help women with fistula around the world.
This article originally appeared in Fistula Foundation's Summer 2014 newsletter. Click here to view a PDF of the entire newsletter.