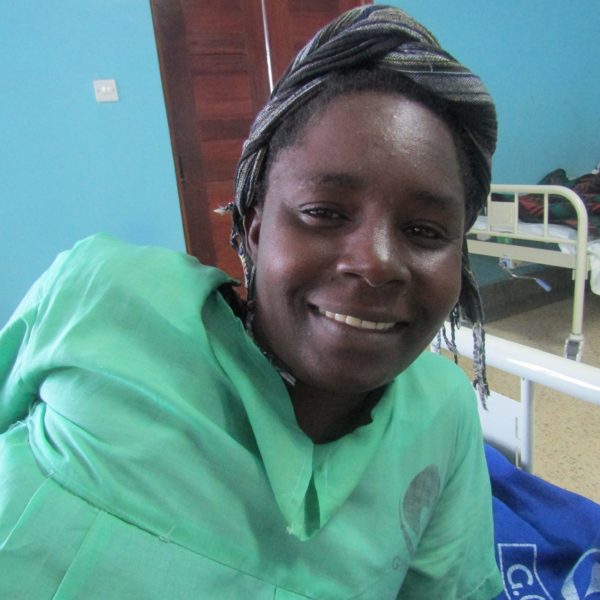 Meet Wilmina
"The last 22 years have been years of great pain, loss and very deep sorrows. I lost my baby, later lost my marriage, lost friends, and lost my only family (my parents). Fistula robbed me of everything that I once valued, and I have been left very empty."
Wilmina's Story
"The last 22 years have been years of great pain, loss and very deep sorrows. I lost my baby, later lost my marriage, lost friends, and lost my only family (my parents). Fistula robbed me of everything that I once valued, and I have been left very empty," Wilmina shared.
Wilmina was married at the age of 18. Like other girls in her village in this position, Wilmina was excited and full of expectations for her new married life. Everything went blissfully until complications arose during her first childbirth. She ended up delivering a stillborn child through a Caesarean section. It was a devastating time for her.
"As I went through the trauma of losing my baby, I kept reassuring myself that I would soon recover and move on. But little did I know that there was another tragedy waiting to strike. On the 5th day following my delivery, I woke up and found all my bedding wet. When I stood up, urine poured on the floor. After consultation from the nurse's desk, it was confirmed that I had developed an obstetric fistula. My world tore apart, my dreams shattered and my hope faded away when I was told that my condition was not treatable," said Wilmina.
There is a saying in Wilmina's community, that "When Mr. Problems knocks on your door, he comes in in with his entire clan."
When Wilmina was discharged from hospital, her husband accompanied her home. He had acted very supportive at the hospital, but she would soon realize that it was an act. As soon as they got home, Wilmina found all of her belongings already packed. That same day, her husband escorted her back to her parents' home, claiming that Wilmina was a bad omen to his family.
"Was it really my fault? Did I make a mistake by fulfilling my divine mandate of child bearing? Is it wrong to be born a woman?" These were the questions that Wilmina kept asking herself.
Then, tragedy struck again. One day, Wilmina returned to her parents' house after fetching water, to discover that her parents had been murdered in cold blood.
"It was not easy for me to handle all of that with my obstetric fistula and all the problems surrounding my life, and yet being the only child of my parents. After my parents' burial, I was asked to leave because my uncle was now the rightful owner of all that belonged to my father since I was not a male child.
"A good Samaritan took me in and built me a small hut on the furthest end of his farm, which I deeply appreciate," Wilmina shared. "For 22 years I have lived there. I have been sent into loneliness, I have lost all, misfortunes have pursued me, and tears have been like my daily bread. Every day I ask myself why am I still alive?"
Wilmina has undergone three corrective surgeries, all of which have been unsuccessful. When she spoke with Fistula Foundation, she was awaiting her fourth surgery at our partner facility, Gynocare Women's & Fistula Hospital, where her surgery will be supported through our Action on Fistula program.
She is trying to remain hopeful, but after so much sadness, it is difficult. Instead she asks, "Will I ever know a good life?"
About Kenya
Population:

45,010,056

Average Births per Woman:

3.54

Female Literacy:

84.2%

Population Living in Poverty:

43.4%

(less than $1.25/day)
Read More