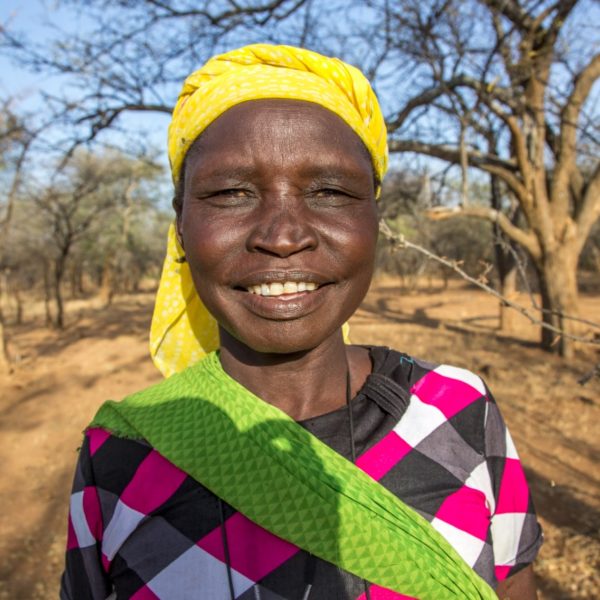 Meet Jane
Conducting patient outreach in rural western Kenya, Jane faces a number of challenges—including threats to her life—as she travels in search of women suffering with fistula. But knowing there are many women who are enjoying life once again thanks to her efforts gives great meaning to her work.
Jane's Story
Jane was born in 1964. She was born and raised in north Pokot in a pastoralist community. Just like most Pokot girls, she never went to school and she was immediately given into marriage after circumcision. She does not speak any of the national languages of Kenya (Kiswahili or English), only Pokot, her local dialect. Jane is now a mother of seven.
Today, she works with our partner Women and Development Against Distress in Africa (WADADIA) as a community resource person, working to identify women living with fistula through community outreach activities. She then refers potential fistula patients for physical screening. "I am glad to have been trained because the training has made it possible for me to be able to effectively find fistula patients and it also empowered me as woman," she said.
Jane sees her position with WADADIA as a platform to become a voice for the voiceless in her community.
"Women in my community are considered lesser human beings, they don't enjoy rights like the boy child, the pain and consequences of genital mutilation, having to suffer in hands of old men in the name of marriage at the tender age of even 10 years old. To worsen the matter, when you have a condition like fistula, it is believed to be your fault," Jane told Fistula Foundation's representative in Kenya. With anger in her voice, she added, "How long shall this continue? …Will I sit back and wait for my grandchildren to suffer the same fate?" In Pokot, Jane explains, old traditions still persist.
Her job isn't easy. As she engages in her fistula outreach work, Jane faces challenges that can be life-threatening. She also travels several miles to find fistula patients because the area she covers is scarcely populated. And the population is also known to move; during the dry season, many families uproot in search of water and pastures for their flocks. Sometimes her very presence is threatening to communities that feel their way of life is being interfered with by her visit.
But Jane persists. Since July 2014, she has identified dozens of women suffering with fistula and referred them for treatment. She says that seeing that these women are able to enjoy their lives once more gives her a reason to continue working in her community.
About Kenya
Population:

45,010,056

Average Births per Woman:

3.54

Female Literacy:

84.2%

Population Living in Poverty:

43.4%

(less than $1.25/day)
Read More